Victorian Architecture Awards (RAIA) – "True holiday home"
Phillip Island Waterfront House (formerly owned by Shearwater by the Sea Pty Ltd or SBS) was the vision of 5 families originating from a ski lodge at Mt Hotham. The founding families joined with 10 families in total and commissioned architect Roberta Rees to design the most amazing property from a stringent design brief.
The objective was to be absolute beach front with the best view on Phillip Island and located on an amazing swimming and surf beach.
Inspiration for the curved roof lines breaking across the building came from the rolling ocean waves always in view and the local sand dunes. This brief ensured great communal areas for socialising like their ski lodge but also allowed privacy with ensuites for all bedrooms and sitting rooms such as on the 3rd level ocean viewing floor. Even the original 10 built in lockers in the double garage were also part of this unique design along with many other features that you will discover during your stay. Using passive solar principles, living areas all receive morning sun and large eaves for all weather protection. It was reported in the media Roberta Rees sucessfully linked these features creating a warm feeling and distinguishing the building as a "true holiday home".
The business 'Phillip Island Waterfront House' was born with the desire to open up this amazing property to share with well-deserving groups of friends and families.
After achieving the dream, with many wonderful memories created, the property was sold to Cameron & Trish in December 2014.
"You are CRAZY!" was the advise from our friends. So why did we?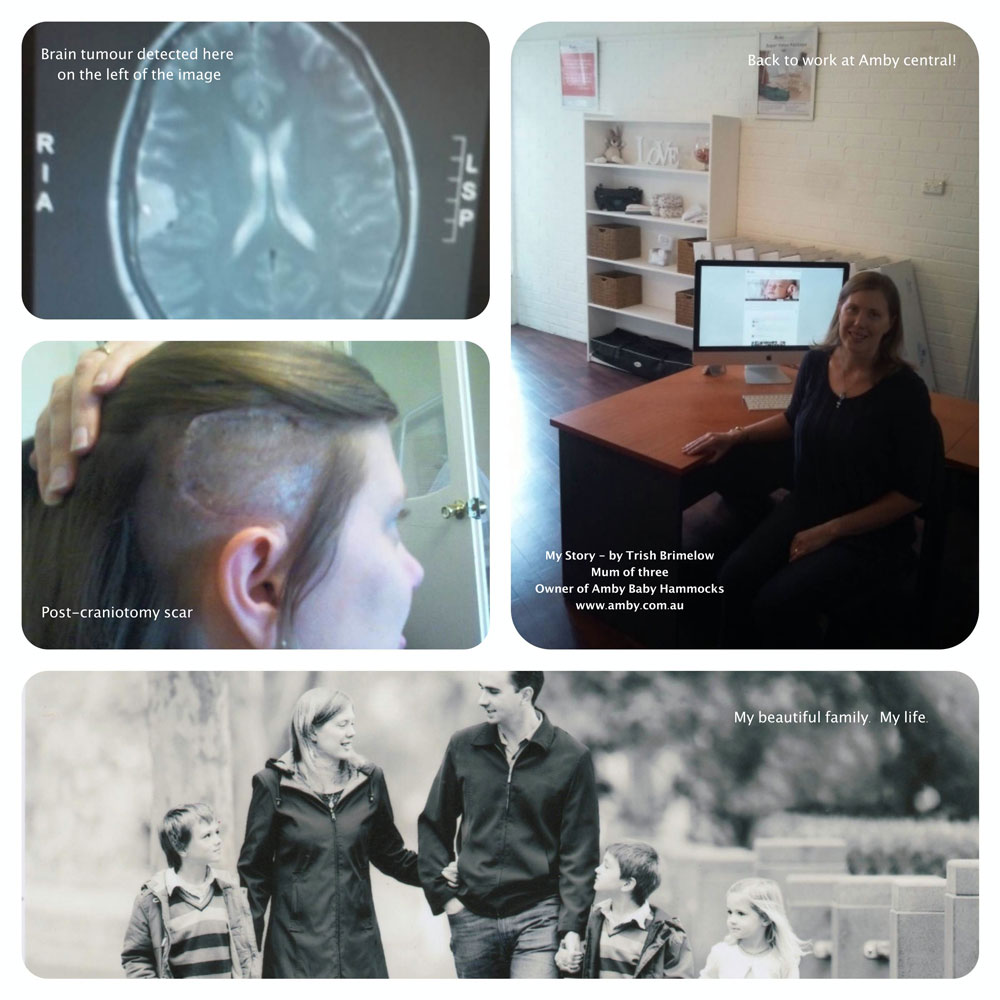 "Hi, I'm Trish and I wanted to share with you all a little story about myself. In October of 2012 I was diagnosed with a benign brain tumour called a Meningioma. This came as a complete shock to me and was terrible news to hear as a Mum of three children who were aged seven, four and three at the time. I felt absolutely terrified when Doctors told me that the tumour must be removed surgically – I had my kids and my business (which is run mostly by myself) Amby Baby Hammocks to think of! So many "What-if's" went through my mind – "What if the surgery doesn't go well?", "What will my children do without their Mum?", "What if I'm not the same person afterwards?". I finally came to a place of peace about it all and in September of 2013 I underwent a Craniotomy to remove the tumour which was approximately the size of a golf ball. Surgery went perfectly and I am so thankful that I am now completely tumour-free! It was a slow, but steady road to recovery post-surgery. The absolute exhaustion that comes with recovering from brain surgery, even months later, came as a huge shock and I found it frustrating at times when I have had to slow myself down. My beautiful husband Cameron was a huge help and support during this difficult time.  He helped keep my household and business running smoothly.  I could not have achieved all of this without the love, support and help of my beautiful friends and family."
This life changing event inspired to us to dream big and pursue our passion. Phillip Island Waterfront House was born after a reflection of overcoming diversity and wanting to ensure families and friends have great holidays together, after all life can change so quickly so let's make the most of it!
Why Phillip Island?
"Our first date was surfing at Cape Woolamai in September 1998. Both our childhoods were full of wonderful family holidays staying at Phillip Island and it was a dream to one day overlook this wonderful surfing spot. Now with our 3 beautiful children we have this amazing property to share. We welcome you to come and experience Phillip Island Waterfront House and it's stunning surrounds. We hope your stay also inspires a dream into your families life in what ever form that might be."
Aboriginal Cultural Heritage Sensitivity Area

Phillip Island Waterfont House has been zoned within an Aboriginal Cultural Heritage Sensitivity area. This natural coast line was the original area of the Yalloc Bulluk clan of the Bunurong people, indigenous Australians of the Kulin nation. It has been reported they were not permanent residents but most likely visited during the mutton bird season to feast on the abundant eggs and young birds that can be still seen today. You are likely to observe a vast variety of native wildlife such as Kangaroos, Mutton Birds (Sooty Shearwater or Puffinus Griseus), Seals, Dolphins and many other indigenous animals.
Sooty Shearwater (Mutton Birds)
Directly out the front of Phillip Island Waterfront House is a nature reserve for the Mutton Bird breeding. They start breeding in October, and incubate their young for about 54 days. Once the chick hatches, the parents raise their chick for 86 to 109 days.
The Sooty Shearwater are spectacular long-distance migrants that cover distances in excess of 14,000 kilometres! They are 40-51 cm in length with a 94-110 cm wingspan. It has the typical "shearing" flight dipping from side to side on stiff wings with few wing beats, the wingtips almost touching the water.
View over Sooty Shearwater breeding ground with Pyramid Rock on the horizon (and immediately on famous Surf Beach and overlooking Surfies Point).
Member of Phillip Island Tourism & Business Association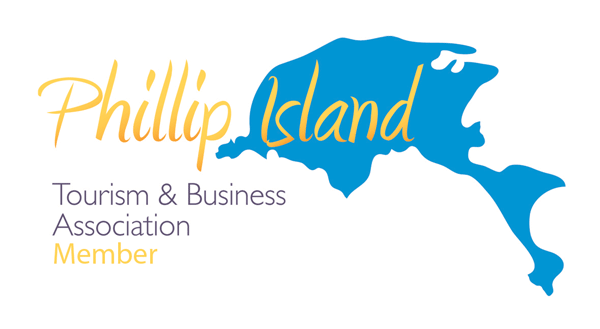 We are an active member of Phillip Island Tourism & Business Association learning how to give the best value possible to our guests.
We have partnered together with other Australian owned businesses to have some great offers. Check them out as they are they are among the best discounts as we want to offer you the best retreat ever!
Discover the Top 5 Attractions, our discounts and the Top 10 Free Phillip Island Activities